Walking has been a good exercise for loosing weight for a long time but in the last few years E-Bikes have quickly gained popularity for many trying to regain their health. Seniors especially have taken to the e-bike since it gives them the confidence they will be able to climb hills, get back home, and just enjoy the ride when they want to kick back and let the motor take over. The website fastcompany.com informs us on how e-bikes are helping seniors keep young and help with symptoms of Alzheimers and Parkinson's. It also mentions that the Seattle-based e-bike company Rad Power Bikes has found that 82% of its customer base falls between the ages of 45 and 84.
Recently I had a phone call with my brother and he sounded out of breath and I asked him why. He explained that he had just returned home from a bike ride with his wife and another couple. I then found out they had purchased 2 new e-bikes and have been riding them on bike paths in nearby towns. They also live close to a lake with a bike path around it that they have been using.
This really caught me by surprise because my brother has some serious back problems that cause him to be in constant pain. He also recovered from stage 3 cancer last year and while he is doing good considering what he has been through I would never imagine that he would be able to ride a bike for that long without experiancing serious pain.
Actually the bike riding was making him feel better as his back muscles got stronger and he had less pain the more he rode. This got me to thinking that I needed to try one of these out. I made a trip to see him and then rode one for a short little ride and decided to purchase one soon.
There was a used one I found online that needed work at a price I could not pass up and am now in the process of repairing it ( there was a reason it was cheap) and getting it ready to ride.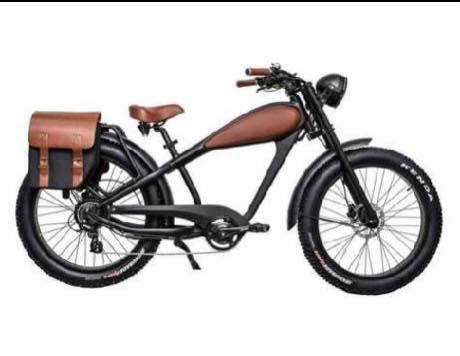 How e-bikes help with weightloss
It is a well known fact that weightloss is dependent on burning more calories than a person takes in. Cycling burns significant calories for the time spent - 50% more than walking, Electric bicycles still allow the rider to pedal as hard as they want, thereby giving an effective workout, yet giving the riders confidence to be able to return home more safely when further from home.
For many e-biking can combine fitness, recreation, and transportation. It is important to ride daily if possible using your bike whenever the opportunity presents itself.
Other health benefits
"
.